This week on the OpenCV Weekly Webinar Jesse Brockmann exhibits off his very cool LEGO-sized robotic navigation system with tiny street indicators and the whole lot!
AVC Legend Talks Spatial AI
About Jesse
Jesse Brockmann is a senior software program engineer with over 20 years of expertise. Jesse works for a big company designing real-time simulation software program, began programming on an Apple IIe on the age of six and has received a number of AVC occasion over time. Be sure you keep up-to-date with our weblog to learn all about Jesse and his group's submission!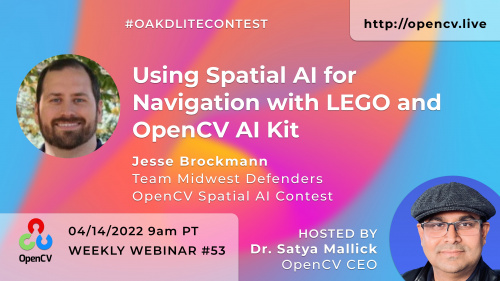 Be part of OpenCV this Thursday at 9AM PT as they welcome SparkFun Model Ambassador Jesse Brockmann. Jesse shall be giving a presentation on his group's entry for the 2022 Spatial AI contest utilizing the Oak-D-LITE and Legos.
---
Behold! The Lego Land Rover Defender Construct!