Hearken to this text
The OES FIGARO sequence is a NEW movement management system launched to enhance Optimum Engineering Programs' rising line of single and multi-axis positioning phases. The FIGARO sequence is an easy-to-use, plug-and-play, price efficient resolution movement controller.
The usual 1, 2, 3, and 4 axis FIGARO Movement Management Programs can be found as compact, countertop enclosures or 19 inch rack mounts for Stepper Motors, DC Servo Motors with Quadrature Incremental Encoders, three-phase Brushless DC Servo Motors with Quadrature Incremental Encoders and Corridor Impact Sensors, or Voice Coil motors with linear encoders.
Moreover, the FIGARO sequence will be configured with any mixture of drivers for Steppers, DC Servos, and BLDC Motors.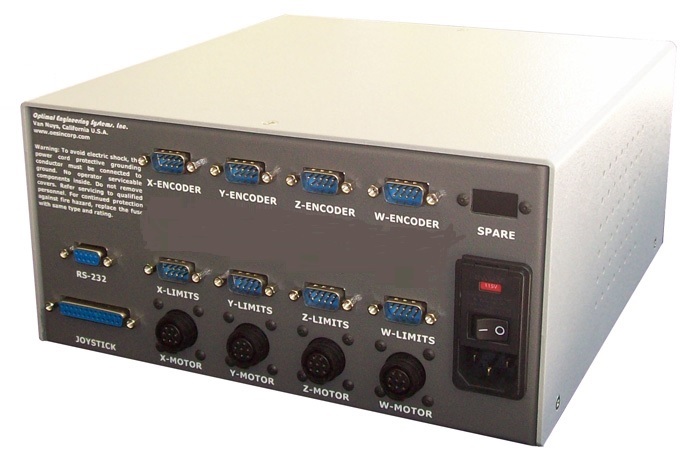 An exterior host similar to a PC, micro-controller or PLC sends instructions to the Controller by way of a USB or RS-232 serial port, and the Controller processes and executes the instructions. When instructions are loaded into the controller's reminiscence, the controller is able to operating the instructions with out want of the host.
The FIGARO sequence works with host put in applications similar to: C/C++, Python, Visible Primary, LabVIEWTM, and MATLABTM. Additionally, the System will be operated utilizing an analog joystick or a trackball. Choices embrace: HOME and LIMIT switches, TTL/CMOS Inputs and Outputs, Quadrature Encoder Suggestions, and an Ethernet interface.
The FIGARO Movement Controllers can present as much as 7 Amps per part present, and as much as 256 micro-steps per step decision, for stepping motors from NEMA 8 to 42; for DC Servos and BLDC motors as much as 40 Amps per part, and + 18 VDC to 80 VDC energy provide voltage.
Straightforward to put in and use these Movement Management Programs are completely built-in options that includes free software program. The FIGARO Movement Management Programs function on an enter energy of 115 or 230 VAC, 50-60 Hz, and will be ordered Plug-and-Play when ordering any one of many many single or multi-axis positioning phases which can be accessible from OES.